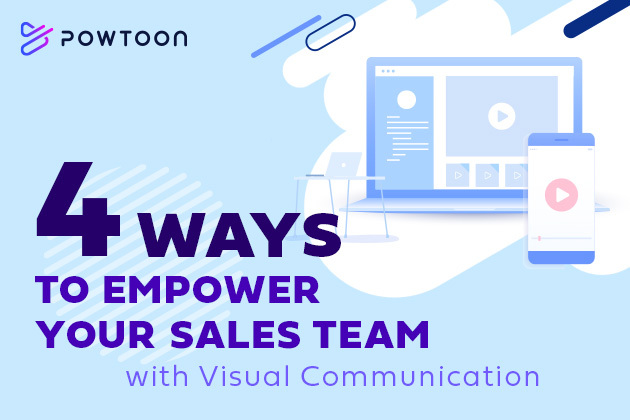 What can Visual Communication do for your Sales Team?
Read Time:
2
minutes
There's no denying that video is one of the most effective sales strategies your team can employ. Prospects actively search for product videos before making a purchase, and 74% of them say social media videos influence their buying decisions. Video is here to stay, and any business that wants to catch the eye of the consumer needs to have a video component to their overall marketing strategy.
The only problem? It's expensive.
A single commercially-produced video costs thousands of dollars – and that's on the low end of the spectrum. It can easily skyrocket to tens of thousands depending on length, crew size, and post-production time. For many sales teams, this simply isn't affordable. The solution is to create videos on your own – and it's far easier than it sounds. An in-house visual communication platform will help you create professional-quality, targeted content for multiple audiences across multiple platforms for a fraction of the price. You can boost your bottom line and create personalized sales videos without busting your team's budget!
Using Video to Drive Sales Value
The reality for most sales teams up until now has been an unending stack of spreadsheets. This wastes precious time that your SDRs and Account Executives could be devoting to closing new deals and filling up the pipeline.
In addition to meeting their own goals, a sales team must be moving the company toward its goals as well. But while most sales pros would like to be more data-centric, the time involved in managing, interpreting, and reporting data is too big an ask.
But imagine if he could create visual reports, with easy to use, ready-made video templates…
Sales Video Templates to Use Right Now
And reporting is only the beginning. Set out your sales plan, use video to capture and nurture leads, and add video to sales interactions to elevate your entire sales effort.
This is just a small sampling of the sales-related video templates available on Powtoon right now. Don't waste another day! Set your sales team up for massive success with video.
Set Sales Team Goals
Click here to edit this template
Share Success Stories
Click here to edit this template
Offer Virtual Demos
Click here to edit this template
Visualize your Results
Click here to edit this template
Empower your Sales Team with Visual Communication
If you're ready to start moving the needle for your sales department, check out the templates above. Don't see what you need? Browse our most popular sales video templates to start making sales videos right now.

Got a video you're proud of? Post your most recent sales video in the comments below for a chance to be featured as a Powtoon visual communication superstar!
The following two tabs change content below.
Shoshi Davis
Shoshi joined Powtoon as a Marketing Assistant. To read more of her stuff, you can find her content on Upwork and Business 2 Community talking all things inbound marketing for SaaS. After only 2 weeks at Powtoon, Shoshi was dubbed by the marketing team as having the superpower of "Unbridled Enthusiasm." So that was pretty cool.
Latest posts by Shoshi Davis (see all)