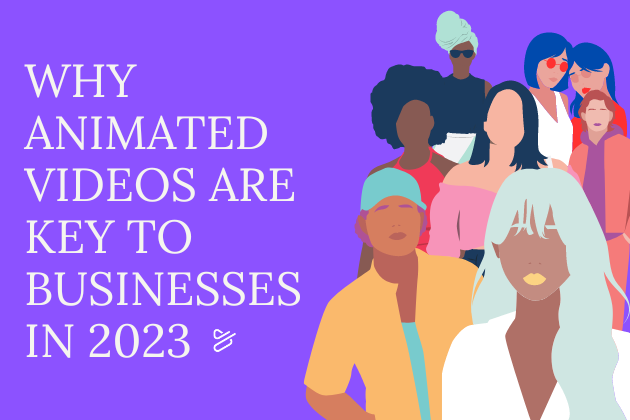 Why Animated Videos are Key to Businesses in 2023
Read Time:
3
minutes
Video content is playing an increasingly important role in the marketing campaigns and internal communications of businesses across a range of industries. In fact, a recent survey indicates that approximately 96% of all marketers consider video to be a significant component of their overall strategies.
It's also worth noting that businesses appear to be growing more and more aware of the value that animation, in particular, can deliver. Some industry professionals even believe the production of animated marketing videos will double in the coming years.
No matter what your niche may be, if you haven't already done so, you should consider how you may leverage animation videos to achieve your business goals. This overview will cover just some of the main reasons you may wish to create more animated content in 2023 and onward.
(Tip: You can still generate animated content even if you lack experience as an animator. With Powtoon's animation maker, creating attention-grabbing video animation is easy and affordable.
Why Do Businesses Use Animation?
There are many reasons businesses like yours benefit from using animation in their video marketing and internal communications strategies. Noteworthy examples include the following:
An animated character can serve as a visual representation of a brand
Motion graphics can illustrate complex ideas in an easy-to-understand way, helping companies market their services and products more easily
Research indicates animated content may boost conversion rates by as much as 80%
Animation is good for SEO because it can capture the attention of an audience, causing website visitors to stay longer
With the right easy-to-use animation tool, creating animated videos may be easier and more cost-effective than filming live-action videos
Those are just a few examples. The specific ways in which animation will benefit your content marketing and internal comms strategies will vary depending on your goals, the exact nature of your business, and other such factors.
Types of Animated Videos for Businesses
Animated videos can serve many purposes and come in many forms. The following are just a few examples of the types of animated videos your business may offer viewers:
Explainer videos
Videos that give dynamic life to other types of content, such as infographics or blog posts
Onboarding and training videos
Animated ads
Animated GIFs
Essentially, if a video can be filmed in live-action, odds are it can also be animated.
(With, of course, the obvious exception of an actual live video! Even the strongest animation maker can't help you create live content in real time!)
Tips for Creating an Effective Animated Video
When planning and creating your animated video content, keep the following suggestions in mind. They will help you create and upload videos that make the right impression on your audience:
Use an all-in-one animation software that offers templates and other such features to help you animate a professional-looking video, even if your experience is minimal
Choose a color scheme that represents your brand
Before producing a video, consider the specific role it will play in your marketing strategy or internal comms
Write a script
Create a thorough storyboard for your video
Decide whether your video will feature 2D animation or 3D animation
Determine the length of your video by deciding where you will share it (for example, a social media video for TikTok should typically be less than half a minute, while a video for LinkedIn, YouTube, or a similar platform may be longer)
Develop an overall tone and "vibe" for your video based on your audience
It's also important to avoid making certain mistakes when you animate videos. Errors to guard against include the following:
Recording audio without the right equipment or in the wrong setting
Not recording multiple takes of audio
Rushing into production without a plan for how you will market your video to your consumer base (or other relevant audience, such as your employees)
Additionally, you may want to create multiple versions of the same animated video for different platforms. For example, perhaps you could create a short version of an explainer video to post on social media, directing viewers to a longer and more thorough version on your website.
All that said, if you're still wondering, "Why do businesses use animation?" consider the fact that you will learn more about the value of animated content when you begin creating and releasing your own. As you experiment with animation, you will become increasingly aware of the unique benefits it can offer.
Powtoon Offers the Ideal Online Animation Maker for You
Thanks to its simple drag-and-drop interface and wide range of animation templates, Powtoon's animation maker is the perfect tool to help you create stunning animated videos, even if your animation experience (and budget) is limited. Get started by signing up today!
The following two tabs change content below.
Hanna is Powtoon's Content Marketing Strategist. She joined Powtoon as a copywriter in 2019, after graduating from university with a specialized degree in marketing and business. She continues to inspire people to create incredible video content with blog posts, videos, guides, and more. Hanna's passions include reading, singing, and caring for animals (#proudvegan). Nothing makes her happier than waking up to her two black kitties who, contrary to popular belief, are good luck!
Latest posts by Hanna Abitbul (see all)