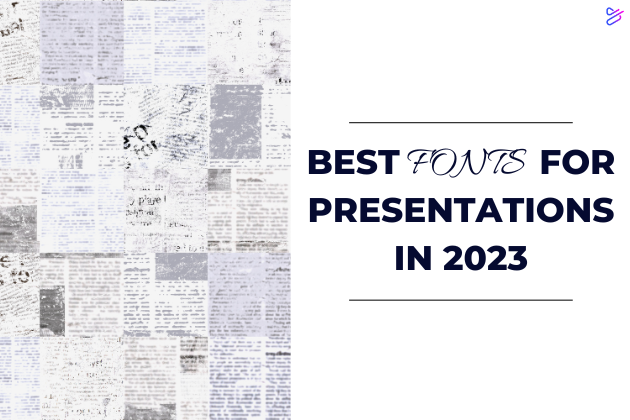 Best Fonts for Presentations in 2023
Read Time:
6
minutes
Even if you're not a graphic design geek, you can probably recognize and name a few of the world's most famous fonts. Times New Roman, for example, will be familiar to anyone who used Microsoft Word in the early 2000s. The playful rounded letters of Comic Sans have been much maligned on the internet, while the spindly lines of Papyrus have been used to great effect in every childhood project about Ancient Egypt. 
Helvetica is familiar from its use by a wide range of brands, including American Apparel and Jeep as well as being used extensively on Apple software. Arial is the default font of Google Slides and Docs. And while most people probably don't know it by name, the font Gotham has been much used in politics and advertising after its use in branding by the 2008 Obama presidential campaign. 
This is all to say that even though people may not think of themselves as font enthusiasts, your presentation font choice absolutely matters. The fonts you use are a subtle but powerful visual cue that can be used to complement your presentation and effectively convey your message. While a unique and fun typeface can help you grab your audience's attention, a more familiar font can convey authority and expertise.
In the increasingly visual and video-based culture of 2023, where TikTok is the world's most downloaded app, and Instagram has more monthly users than Twitter, getting your slides' appearance right is just as essential as perfecting your script. So, which font choices can help your presentation hit the mark? Here are the best fonts for presentations in 2023, as well as the ones to avoid. 
But first, a note of serif and sans serif
Serif and sans-serif fonts are the two main categories you'll need to consider when designing your presentation template. Despite the fancy names, the difference between the two is very simple.
Serifs are the elegant flourishes at the ends of letters, modeled on the way a paintbrush flares out when painting letters. Used extensively in print, these can sometimes be harder to read on a digital screen because of the additional detail. However, digitally optimized serif fonts can look amazing in presentations as titles or body text because of their elegant and classic look. Examples of well-known serif fonts include Times New Roman, Georgia, and Garamond. 
Sans serif is the French term for 'without serif.' Sans serif fonts do not have these fancy flourishes; they became widespread on digital screens because their simpler design was easier to render in pixels. Sans serif fonts look modern, clean, and simple, making them a great choice for the body text of your presentations. Well-known examples of sans serif fonts include Arial, Lato, Helvetica, Calibri, and Verdana. 
Don't worry — you don't have to pick just one type of font and stick to it. In fact, using sans serif fonts for titles and serif fonts for body text, or vice versa, can look stylish and cohesive in your presentation. A good technique is to pick one serif font and one complementary sans serif font to make your presentation design pop. 
Arial
Yes, it's a classic, but it's a classic for a reason. Arial is so commonly used and well-known that it projects instant familiarity and authority. It looks clean, clear, and persuasive at any font size. Most importantly, it doesn't distract from what you're talking about.
Best for: Instructive presentations such as internal company workshops or training sessions. If you're teaching people a new skill or informing them about policy changes or important information, a clear and easy-to-read font like Arial is ideal. 
Add it to your template as: Body text.
What this presentation font says about you: You're trustworthy and know what you're talking about. Questions will be taken at the end. 
League Spartan
Approachable, fun, and a little bit trendy without trying too hard, League Spartan gives your presentation a fresh and youthful appearance. Sans serif typeface in your titles adds visual interest to your slides, especially when fashioned in your brand colors. 
Best for: Welcome and onboarding presentations, progress updates, and informational presentations.
Add it to your template as: Eye-catching titles and attractive sub-headings.
What this presentation font says about you: You've got important information to share, but you're not afraid to have a little fun as a presentation maker.
Lovelo Black
Bold and attention-grabbing, the thick strokes and all-caps letters of Lovelo Black make it the perfect sans-serif title font. This typeface looks great on a slide deck with lots of pictures and minimal text, drawing the focus to the screen. Alternatively, if you're feeling a bit funkier, why not try Lovelo Line for a distinctive line-based version of the font? 
Best for: Image-based presentations, marketing pitches, and storyteller-style presentations.
Add it to your template as: Big, bold titles.
What this presentation font says about you: You're ready to inform and entertain your audience.
Montserrat
Another of those famous fonts that shows up everywhere, Montserrat has a modern appearance that looks great on screens. Fun fact: Montserrat was inspired by signage and posters in Buenos Aires and is often used in design and marketing materials.
Best for: Pitches, sales proposals, video resumes, and inspirational presentations. 
Add it to your template as: titles or body text — it looks great either way!
What this presentation font says about you: You're modern and with it. You've got a great eye for design, and this presentation is evidence of that.  
De Valencia
Minimalist yet elegant, De Valencia is a distinctive typeface that works best when splashed across your slides in large font sizes. The tall, well-defined letters with large spaces between them make a great title slide that will catch your audience's eye.
Best for: Motivational and inspirational presentations.
Add it to your template as: short titles — don't overwhelm your slide with too much of this font. 
What this presentation font says about you: You're thoughtful and creative, appreciating a touch of flair to your presentations. Your audience will walk away feeling uplifted and inspired.
Cabin Sketch
In contrast to the minimalist design of De Valencia, Cabin Sketch can only be described as maximalist. This fun, hand-drawn style title font looks informal and friendly when used correctly. If you're looking for a font that keeps it casual or is appealing to a younger audience, Cabin Sketch is the one for you.
Best for: Informative and educational presentations aimed at a younger or mixed audience.
Add it to your template as Titles and subtitles. Keep the color scheme simple, or your presentation will end up looking too messy. 
What this presentation font says about you: You're approachable and fun; come say hi after the presentation!
Fonts to avoid in 2023
Comic Sans
Using Comic Sans in your deck just screams '2007 school project PowerPoint presentation'. It's not the fault of this playful rounded typeface, but unless you're creating a presentation for small children, it's a definite no-no. 
If you're looking for a child-friendly handwriting style font that isn't a total cliche, try Schoolbell or Shadows into Light. Both convey that informal handwritten feel; these add more visual interest than boring old Comic Sans.  
Impact
There's a reason that Impact is sometimes referred to as 'the meme font.' Its use in the 2000s and 2010s internet memes has sadly made Impact font unusable in 2023. Sure, it's eye-catching, but Impact will make your presentation appear totally outdated and low quality — not a good look! 
For a similarly bold and attention-grabbing font that hasn't been beaten to death by the internet, try Beethoven or Chunky. These stylish fonts are loud and fun, keeping your presentation informal while still looking high-quality and well-designed. 
Times New Roman
So named because it was commissioned by the Times newspaper in the 1930s, Times New Roman is a classic serif font that can look great both on screens and in print. However, its use as a Microsoft default font has forever led to it being associated with the word processor. Using Times New Roman in your presentation risks making your deck look unfinished, as though you made it in PowerPoint and forgot to change the typeface to something better. It's a shame, but outside of printed newspapers, there's no use for Times New Roman in 2023. 
A better serif font to use in your presentations is Playfair Display or Poppins, two gorgeous, glossy typefaces that add a touch of that old-school luxury to your titles. 
Perfect your own presentations with Powtoon
Looking to create a beautiful presentation in minutes? Powtoon is a free presentation maker with a wide range of presentation templates to suit every occasion, from proposals and value propositions to onboarding and training templates. Put together by our expert designers with stunning layouts and fonts, the templates allow you to easily customize the text, color schemes, images, and animations. To get started, sign up for your free account today and start making amazing video content for presentations, social media, and more!

The following two tabs change content below.
Hanna is Powtoon's Content Marketing Strategist. She joined Powtoon as a copywriter in 2019, after graduating from university with a specialized degree in marketing and business. She continues to inspire people to create incredible video content with blog posts, videos, guides, and more. Hanna's passions include reading, singing, and caring for animals (#proudvegan). Nothing makes her happier than waking up to her two black kitties who, contrary to popular belief, are good luck!
Latest posts by Hanna Abitbul (see all)