Diversity & Inclusion: The Unfiltered Truth About your HR Communication
Read Time:
5
minutes
I want you to picture the following scenario – the visualization part is important.
Imagine you're late to an exclusive, 5-star restaurant opening. You rush to the restaurant. You make it through the crowds of people, you get to the restaurant entrance. And just as they're about to shut the restaurant's doors, the General Manager steps outside to welcome you in.
You enter the restaurant and have the best meal of your life. At the table beside you is a happily married couple that makes you feel slightly envious. Meanwhile, a famous speaker is about to take the stage to speak – a CEO of one of the world's hottest tech startups.
In your mental image, what race was the general manager? Was the married couple gay or straight? How old, and what gender was the CEO?
The images that first come to us are often riddled with 'unconscious bias.' We might be immediately sure the restaurant manager is white, that the couple is straight, or that the CEO is a man. No matter how much we love the idea of diversity and inclusion (D&I), when immediately confronted with such scenarios, our brain will create mental images of what it's familiar with.
As a senior or Head of HR, I'm sure you're well familiar with the concept of "Unconscious Bias". The question is, how is this unconscious bias being reflected in your HR communication? And what can you do to outsmart your own biases and make a bigger effort to foster a more inclusive company culture? Keep reading.
The Millennial & Gen Z Perspective on Diversity & Inclusion
In an increasingly hybrid workforce, addressing unconscious bias and building a truly inclusive workplace is more important than ever before.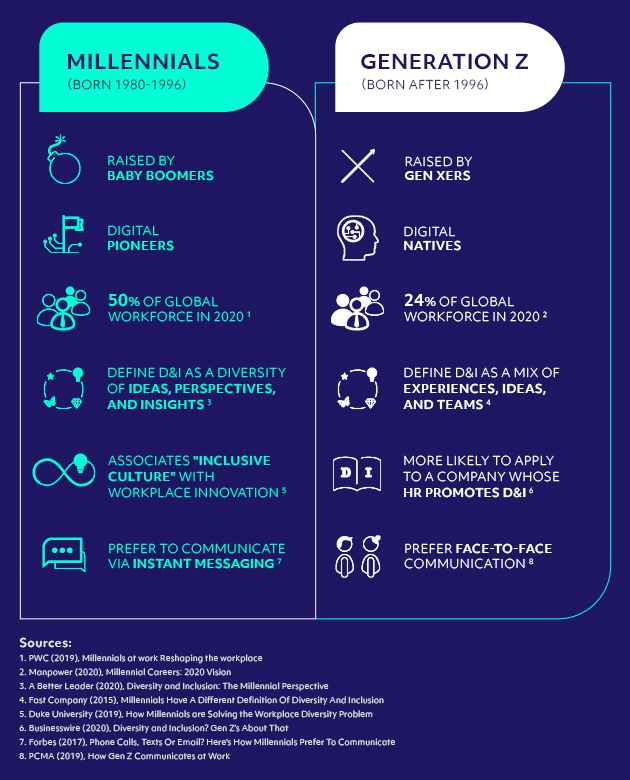 Starting with Millennials – by 2025, this generation will account for as much as 75% of the workforce. While Baby Boomer and Gen X employees generally view D&I as a representation of fairness and a diversity of demographics, Millennials view D&I as the blending of different backgrounds, experiences, and perspectives within a team, also known as cognitive diversity.
In other words, Millennials are more interested in the willingness of a company to embrace a diversity of ideas and perspectives while recognizing that such diversity yields a more engaged and productive culture. Unlike previous generations, for Millennials, the subjective factors of an "open and inclusive culture" is more important than the hardcore stats.
Then comes Gen Z. The generation that has swiftly entered the workforce and will soon overtake Millennials as the largest generation. Having grown up with a smartphone at their fingertips, they value individual expressions and are deeply passionate about diversity and inclusion.
In the US alone, Gen Z is more racially and ethnic diverse than previous generations. According to a Pew Research (2020), one-in-four Gen Zers is Hispanic, 14 percent are Black, six percent are Asian and five percent are some other race or two or more races.
Therefore, the Gen Z perspective on D&I is much broader, spanning diversity of experiences, identities, ideas, and opinions. They also refuse to turn ethnicity and race into a checkbox on a survey form. For the Gen Z employees, a company culture that lacks diversity and inclusion values and initiatives will sharply stick out more.
For the most part, Gen Zers and Millennials share similar views on D&I. However, the subtle differences can have a profound effect on your HR communication and the way it makes them perceive your culture and their sense of belonging.
How To Outsmart Your Own Unconscious Bias
Understanding the assumptions that we make and the errors that we make in our day-to-day communication is the first step.
The more you become aware of this unconscious bias, the more you can try to eliminate these potential biases, make better decisions, and broaden your HR communication.
In a more practical sense, when you're creating an HR presentation, video, poster, webinar, or whatever visual medium you may be using, you're subconsciously making decisions about the type of employees you're trying to present – what they look like, what clothes they're wearing, what height and shape they are.
Staying objective is hard.
Is Your Existing HR Communication Inclusive?
So next time you prepare an onboarding presentation, a recruitment post, or any piece of visual content, consider these questions:
Who's in my team and departments?
How would somebody in my company perceive this material?
Will the visuals make employees feel seen and represented at the company?
Do these visuals tell the story of my diverse company culture?
How many types of cultural and ethnical groups are being represented?
Answering these questions will help broaden your perspective as to who this presentation, video, or visual medium is addressing. I promise you, that the end product will be much more meaningful and authentic.
Making Sure Your HR Communication is Visually Inclusive
Inclusivity is not always felt by hard numbers on a paper. Sometimes it's what you can see and visualize. As more and more companies shift to hybrid environments, visual communication plays a central role in conveying your cultural narrative of D&I.
Through the visual materials that your HR team creates, you can do a lot to help foster a more inclusive culture and address representation gaps. While Clipart and PowerPoint can be convenient tools, if you want to reflect your company's diversity, then your HR team should be creating videos.
Video will have a more significant emotional impact on your employees, providing additional room to express and visualize your culture. In doing so, they help tackle stereotypes and address unconscious biases.
Check out these two examples:
>
In all examples, we see custom characters being used to embrace the different employees across cultures, ethnicities, ages, and gender.
So what exactly are custom characters?
Characters to Promote Diversity & Inclusion
Custom characters are animated characters whose features can be set to match… well, whatever you'd like them to! That means fine tuning skin tone, face shape, hairstyle, clothes, height, accessories, and more.
With Powtoon's Visual Communication Platform, your HR team can very easily create characters and include them in videos and presentations without the hefty price tag of a creative agency. They can make as many characters as they like, in the way that reflects their people and brand.
Let's say you need to prepare an onboarding program, a company update, a recruitment video, or a meeting recap, creating custom characters offers a great way to show off company culture as well as the colorfulness of your team.
Not only will custom characters help build a more inclusive workplace, but they can also spice up your videos and add personality to a somewhat dry or uncomfortable topic like in this example on breast screening created by Anthem Insurance:
Diverse characters and videos are not just about picking great designs. It's about making sure your HR communication makes employees feel comfortable, welcome, and more engaged.
These visual cues and nuances can have an immense, positive impact on your employees. The characters look like them, dress like them, and act like them. Suddenly, employees feel that your message is addressing them directly and is more likely to be consumed and applied in their day-to-day work.
To learn more about how your HR team can build a more inclusive and engaged company culture with Powtoon, visit this page.