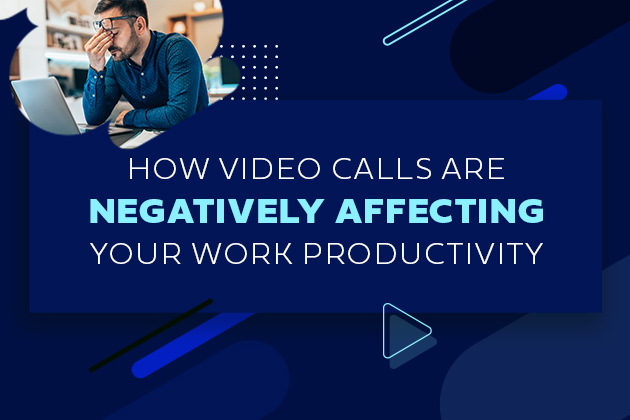 How Video Calls Are Negatively Affecting Your Work Productivity
Read Time:
4
minutes
Video call anxiety is real. Forget the fact that remote work today means finding the most presentable corner of our living quarters, donning our most "business on the top" piece of office wear, and perfecting our homely lighting and sound systems.
With the new and necessary wave of remote work comes the need for back-to-back-to-back video calls, at times for hours a day, is exhausting. With every new meeting invite notification, the impact of "let's just have a video call" is starting to wear us all down on every level.
Not to single Zoom out, but since December 2019, Zoom's daily meeting participants have soared from about 10 million users to 300 million meeting participants today. Between January and March, app usage jumped over 67 percent, and the company has seen unprecedented success during a time when other businesses are struggling.
As the world has pivoted to remote work, there is a dire need for communication between management teams, colleagues, and just about everyone else.
Video calls have quickly become the go-to communication channel, yet the proof is in the productivity — and video calls are having a negative impact on workspaces around the world.
See Visual Communications in action! Request a demo.
Why Is Meeting Fatigue a Thing?
Even when the 9-5 office world dominated, meetings were always tedious time killers. For many, meetings had become an essential non-essential — a space to call team gatherings together, yet often were conducted with little focus, wasting time and energy of everyone involved.
Today, in the new world of remote everything, meetings are no different. Except instead of meeting in the conference room, attendees meet at links, filling up displays instead of seats, and experiencing a whole new reality of behind-the-screen symptoms stemming from The Video Call.
Relying so heavily on The Video Call, however, seems to result in decreased productivity and enjoyment, and an increase in stress, worry, and exhaustion.
A number of factors might contribute to these symptoms. Yet it seems as if The Video Call is slowly and surely zooming straight to becoming the nemesis of… nearly everyone on the team.
Are Video Calls THAT Bad?
Besides the unavoidable intrusion of personal space, the need for video calls are creating damaging and unmanageable expectations for remote employees.
WHY?
Every video call requires the need to be ON.
On screen, on camera, on best behavior, on display — and sometimes all of that ON can be exhausting. While employees only needed to be "on" in the office, they now need to be on at any moment, from their house, causing dissonance between personal and professional identities.
When people need to stare at themselves, their self esteem seems to drop.
Most humans would never opt for taking the stage, or the screen. Some faces are simply not meant for performance. But about 300 millions faces a day are showing up on video calls, and many of them are likely suffering from some kind of performance anxiety.
For work video calls, many employees likely feel obligated to show their face, to feel present and seen, and to ensure their boss feels it too.
A second of silence is too much.
Talk about anxiety. A 2014 study showed that with just 1.2 seconds of silence between people on technology can create a negative impression of the other person, or cause immediate anxiety due to tech failure.
This one second of silence could have nothing to do with you or the person you're communicating with — and everything to do with your WIFI connection. Yet it still has a direct impact on people's personal connection.
While in face-to-face conversations, silence can make space for careful thought, or a moment of non-verbal connection the situation when communicating via video calls is totally different. The need to speak between the gaps online, and the awkward interactions it promotes, is giving humans less leeway in their response time, forcing them to literally speak before they think.
Too much Zoom means zoning out.
If you're like every employee in the world, you've received what feels like 4, 5, 6, 7, 8, even a million video call invites per day. Having back-to-back video calls is not only dangerous to our physical health, but also to our mental and emotional well-being. No breaks and no downtime make for weak minds, less productivity, less creativity, more stress and more anxiety.
The human brain requires way more focus for a video call.
Since the demands on our attention are greater than ever, face-to-face meetings make it easier to put distractions aside and have a conversation eye-to-eye. When it comes to video calls, it takes more of conscious effort to concentrate and balance whatever is happening behind the screens, which could be filled with partners, pets, children, doorbells, deliveries, and tons of other distractions.
To add a few more challenges, throw in blue light drama, screen dizziness, AND technical difficulties — WILL REMOTE WORK EVER CUT US A BREAK!?
What Do We Do Now?
Clearly we are being negatively affected by The Video Call's dizzying deficiencies… and this emerging issue is begging for a serious solution.
So here's our proposal.
What if video calls became weekly essentials instead of daily ones?
What if there was another way to communicate important messages, company goals, tools, and tasks?
What if instead of One. More. Video. Call, you received the information you needed in a one- to two-minute, easily accessible video?
No calls, no confusion, all clarity — YES PLEASE!
In a working world living on the edges of meeting fatigue, the way we meet matters. How we communicate with each other is on par with how we deliver messages, updates, and goals within, before, during, and after meetings.
The game changer is to evolve and elevate our idea of visual communications beyond just a The Video Call.
Visual communications means how we craft messages before, during, and after meetings. Truly communicating visually is about connecting to keep our teams on point, to keep our colleagues updated, and to get our messages across quickly and clearly — without needing to spend an hour suffering on the screen.
A true visual communication platform allows remote teams to easily create videos and presentations that enhance communication, inside and outside the organization. 
Video calls are on the way out — and visual communication is on the way in.
If teams can become more productive, and more creative, I can't say stress will simply disappear, but meeting fatigue WILL. 
With this new world of work, we are dedicated to redefining the future. Sometimes, we just need to zoom out (and possibly limit how much we Zoom back in) to see the big picture.
Want to get started having fewer video calls by bringing visual communications to your team? See our latest video templates designed for the future of work!
Join the Future of Work with Visual Communications!
A big thanks to Zo Flamenbaum for contributing to this post.
The following two tabs change content below.
Nick Liebman
Nick is Powtoon's Head Creator for Video & Learning. He joined Powtoon as head copywriter in 2016, after his previous blog was voted one of the top 8 CRO blogs on the internet by Digital Marketer. He continues to churn out awesomeness for all Powtoon users via blog posts, tutorials, webinars, videos, and more. Before working in technology full-time, Nick honed his skills in the unlikely world of music and non-profit work. He holds a B.A. in Music from Grinnell College and an M.M. in Music Composition from Butler University, and has performed his and others' music all over the world.
Latest posts by Nick Liebman (see all)