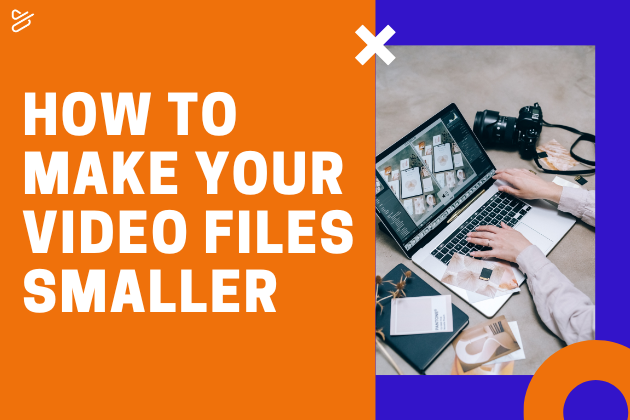 How to Make a Video File Smaller
Read Time:
4
minutes
In any industry, video content can play many roles. For instance, research indicates that video content drives more engagement on social media than blog posts and other types of content. That means video can serve as a powerful marketing tool to spread brand awareness, promote your services, and generally forge an emotional connection with your target audience.
Video can also improve the overall quality of your internal communications. With video, you can train new hires, share updates about company successes, and more.
Of course, video content also has many potential uses in your personal life. After all, a video of your recent vacation may be more appealing to your friends and family on social media than a simple picture.
However, sharing video files and posting them to certain platforms can prove challenging. After you create an impressive video, you may find the video file size is larger than you expected. You may thus be wondering how to make a video file smaller.
Large video size is a common problem. Luckily, it's one with various potential solutions. To compress a video file without unreasonably sacrificing video quality, consider the following options:
Compress Video Files: How to Make a Video File Smaller
Edit the Video
Doing a little extra video editing is one of the simplest and potentially most effective ways to reduce the size of a video file. Quite simply, the shorter your video, the smaller the file.
After you create your content, play it back with the goal of identifying spots where you can trim the video while still providing value to your audience. Keep in mind, editing a video to make it shorter may help you achieve goals beyond simply reducing video size.
For example, perhaps you're posting a video to Facebook to promote your brand. Research shows the ideal length for such a video is under one minute. Along with reducing file size, editing your video could improve its odds of succeeding on social media.
Try a New Format
Digital video files come in many different formats. Popular examples include:
MP4
MOV
WMV
FLV
AVI
AVCHD
H.264
Some video formats result in a larger file size than others. For example, MP4 and H.264 are popular video formats that offer good quality at a relatively small file size. Try converting your video to a different file format to compress it.
Change the Bitrate
A video's bitrate refers to the amount of data necessary to encode a second of a video. The higher the bitrate, the larger the video size.
Reducing the bitrate will reduce the size of the file. That said, it's important to understand that lowering the bitrate will also decrease the quality of the video. However, by making some adjustments, you may be able to strike the perfect balance between making the file more manageable and ensuring its quality doesn't degrade too noticeably.
Change the Video Resolution
Adjusting the resolution of your video is another way to reduce its size that, like changing the bitrate, will naturally have an impact on its quality. You simply need to consider the purpose of the video when deciding whether compressing the file is worth sacrificing a certain degree of video quality.
For example, if you wish to create and share a marketing video, maintaining an impressive video resolution may be essential. You don't want a poor-quality video representing your brand.
On the other hand, maybe you're sharing an internal video with team members who you suspect are already loyal enough to the company that you don't need to impress them with a stunning video every time you share one. In this case, adjusting the resolution may be an easy way to reduce the size of the file.
Use Cloud Storage
There are technical ways to share a large video file without editing the content or compressing the file itself. For instance, you could upload a video to a cloud storage service such as Google Drive or Dropbox.
You may still need to reduce the size of the video if you plan to upload it to YouTube, post it on social media, share it via email, etc. However, uploading the file to the cloud can at least allow you to store it outside of your device, where you might not have space for the file.
Additionally, if the video consists of internal communications content, you could give all relevant team members access to it via the cloud, ensuring you don't have to email it at all. If you don't have to email the file or upload it to another platform, you may not have to compress it.
Use the Right Video Maker
You may have to create an impressive video before you even start to think about how to make a video file smaller. This could present its own set of challenges if you have limited video production experience and a small video production budget.
Fortunately, Powtoon's video maker is designed exactly for someone like you. It offers templates and numerous other tools and resources to ensure creating quality video content is easy, regardless of your experience level.
Powtoon also offers a range of export options. Once you've created stunning video content, you can compress your files to suit the best formats for your needs. To learn more about what Powtoon can do for you, sign up today!
The following two tabs change content below.
Hanna is Powtoon's Content Marketing Strategist. She joined Powtoon as a copywriter in 2019, after graduating from university with a specialized degree in marketing and business. She continues to inspire people to create incredible video content with blog posts, videos, guides, and more. Hanna's passions include reading, singing, and caring for animals (#proudvegan). Nothing makes her happier than waking up to her two black kitties who, contrary to popular belief, are good luck!
Latest posts by Hanna Abitbul (see all)