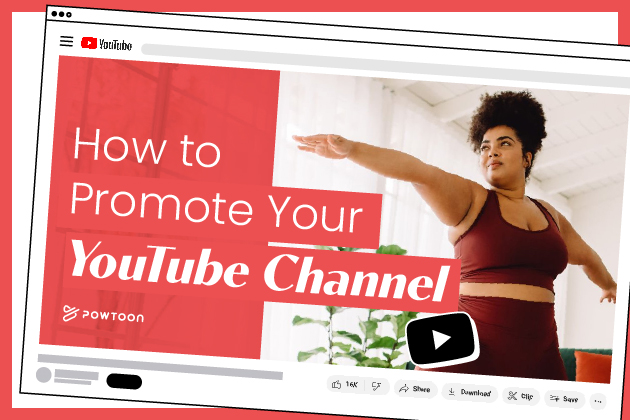 How to Promote Your YouTube Channel
Read Time:
5
minutes
With an ever-growing user base, YouTube remains one of the top platforms for sharing video content. Managing and promoting an active YouTube channel is thus a smart marketing tactic for any organization.
 YouTube SEO plays an important role when promoting and creating videos for your YouTube channel. Our guide on the subject can help you better understand how you can leverage SEO to grow your audience.
However, when considering promoting your YouTube channel, you must keep in mind that SEO is just one part of the equation. If you're still wondering how you can get more views on your channel, consider the following ideas:
Pay to Promote YouTube Videos
Creating paid YouTube video ads may be a worthwhile investment when promoting your YouTube channel. YouTube Ads give you the ability to place your video in front of potential viewers who would otherwise not be aware of it.
Optimize Your YouTube Video Titles
Increase your YouTube views by optimizing your YouTube video descriptions and creating click-worthy titles. This is an effective and low-cost way to easily boost your channel and dominate YouTube search results.  As a best practice, make sure your video titles and descriptions are keyword-rich, accurate, and clear. Describe what viewers can expect to see in the video and give them an idea of its content. The right keywords will help you dominate the search results and boost your click-through rate as well. You can always gain inspiration by looking at what other successful YouTubers and content creators choose for their video titles.
Upload A Captivating Thumbnail
A YouTube or video thumbnail is a quick snapshot of your video that lets people know what they can be expecting to gain from watching your content. A captivating video thumbnail is will increase your YouTube views. Here are some tips to make your thumbnails even more click-worthy. Make sure to use high-quality images and add readable text. Include the right keywords in your thumbnails and try to avoid thumbnails that are misguiding. Adding your face to your thumbnails helps build trust and connections. Another way of boosting your thumbnails is sticking to the Youtube thumbnail guidelines and sizes. A YouTube thumbnail must be 1280 x 720 pixels with a minimum width of 640 pixels.
Increase YouTube Views by Sharing Videos on Social Media
If you look at successful YouTubers you will see that they almost always promote their Youtube content on their other social media channels, usually with a teaser post on TikTok and Instagram. That way they make sure all of their followers are up to date with their new video releases and simultaneously bring in new people which results in more YouTube views. It's a free way to advertise your content without having to pay someone. You can always consider using paid social media ads or influencer marketing to get more views on your YouTube and promote your channel further. Whatever route you choose, Powtoon makes exporting, sharing, and uploading your videos to social media super easy. Once you are finished creating your dream video you can upload it directly to your YouTube channel.
Use The Right Music
When it comes to YouTube videos, adding the right soundtrack can make all the difference in making your content even more engaging. The right music can add that extra bit of excitement, suspense, or humor to your video, helping to keep your viewers hooked and engaged. Whether you are looking for an upbeat background tune for a vlog, a dramatic score for a short film, or a light-hearted melody for a cooking tutorial, Powtoons vast music library will enhance the overall experience for your viewers and leave them feeling more connected to your content. Don't be afraid to experiment. Upload your own music – or choose from Powtoon's library stocked with millions of royalty-free soundtracks.
Partner With Influencers
Partnering with influencers may be an effective way to grow your YouTube audience. Just remember, not all influencers are ideal for your brand. Make sure to partner with influencers who are relevant and have a sizable following on their social media.
Offer a Series of Videos
Create content that encourages viewers to binge-watch your videos. One of your goals when growing your YouTube audience is to not only boost individual views but to give viewers a reason to come back to your channel. An effective way to achieve this goal is to offer a series of videos on a particular topic. This can help you create a loyal audience that is interested in the content you are creating. It can also help you establish your expertise in a particular area or subject.  
Create Playlists to Keep People Watching
This is a similar idea to the one above. Creating playlists (or pointing viewers to existing playlists) will help viewers stay engaged with your content for longer periods of time. You can also use playlists to drive engagement, by asking viewers which videos should be included in their favorite list. Take a look at other creators, other channels, and other YouTubers to gain inspiration.
Make Use of YouTube Analytics
Search engine optimization is very important in increasing viewership. YouTube Analytics can help you understand how your videos are performing and give you an idea of which strategies are working best for you. By utilizing YouTube Analytics, you can determine which topics perform best, how long viewers watch your videos and more. With this information, you can create a tailored strategy, pick the right keywords and create new content that will help increase viewership and ensure you rank high on YouTube search results.
Promote Your YouTube Channel With a Blog, Podcast, Etc.
This is an idea to keep in mind if you're trying to promote your YouTube channel for free. Consider using a blog, podcast, or other platforms to create content that you can link back to your YouTube channel. This is a great way to drive extra traffic and give viewers more reasons to tune in. Plus, it can help build your online presence and reach new audiences.
Respond to Comments Quickly
Don't delay when responding to comments on your YouTube videos. By responding to comments promptly, you can help engage with your viewers and create a sense of community. Plus, this is an excellent way to show that you care about what people have to say. This can go a long way toward generating and sustaining brand loyalty.
Invite Your Subscribers to Collaborate
Allowing your subscribers to participate in the process of generating and posting videos for your YouTube channel can boost engagement and increase the chances of your subscribers sharing your content on other platforms. This doesn't have to be a complex process. You can simply ask subscribers to submit their ideas for your video content.
Organize Contests to Promote Your YouTube Channel
Competitions and giveaways are a great way to encourage viewers to join your channel and become part of your community. You can create contests or giveaways that require participants to subscribe and watch certain videos, comment on them, or share them with friends. 
Post Quality Content on YouTube
This should go without saying, but the quality of your content plays a major role in how successful your YouTube channel is. Nobody likes watching a video that is low-quality. Post videos that are of the highest quality, and make sure to keep up with the latest trends in terms of content creation. That way you make sure that your videos will gain lots of attraction and stand out from the competition.  
It is important to remember that promoting your YouTube channel is an ongoing process that requires patience and dedication. However, if you use the tips outlined above, you should start seeing results in no time.
Powtoon Makes Generating Quality YouTube Content Easy
Creating video content for YouTube doesn't need to be a challenging task, nor does it need to involve a hefty financial investment. Powtoon offers templates and various other tools to ensure video creation is easy and affordable. Get started today for free!

The following two tabs change content below.
Hanna is Powtoon's Content Marketing Strategist. She joined Powtoon as a copywriter in 2019, after graduating from university with a specialized degree in marketing and business. She continues to inspire people to create incredible video content with blog posts, videos, guides, and more. Hanna's passions include reading, singing, and caring for animals (#proudvegan). Nothing makes her happier than waking up to her two black kitties who, contrary to popular belief, are good luck!
Latest posts by Hanna Abitbul (see all)