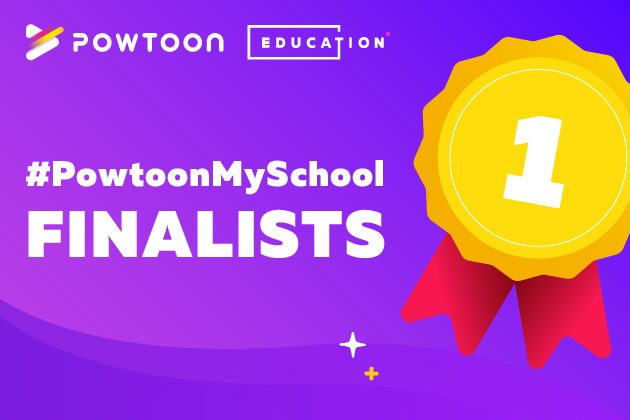 This Just In: #PowtoonMySchool Challenge Finalists! [Announcement]
Read Time:
3
minutes
Nothing gets us excited like getting #PowtoonMySchool submissions from EDU tribe members all over the planet. From NYC to Malaysia, you brought your game faces and school spirit to show us just how much you love Powtoon, and how you plan to use it in your classrooms. After an epic viewing session of the videos you sent us, we've narrowed it down to 6 top finalists. But enough with the introductions, can we have a drumroll for our finalists, please?!
Robert Lewis Stevenson Elementary
First-grade teacher Erica Cholewa created an awesome entry on behalf of Robert Lewis Stevenson Elementary. We loved this video because Erica created a flippin' rap (which as far as we know has never been done in Powtoon's history)! It was super fun and looking around the room during the screening, you could see everyone was bopping along to the beat, all of us smiling from ear to ear. Needless to say, there was a serious "Oooooohhhh!!" when Erica's avatar drops the mic at the end. Just legendary.
School Facts
School: Robert Lewis Stevenson Elementary School of the Arts
Location: Florida
Founded: 1960s
Number of students: 506
Grades served: K–6
@powtoon Here it is! Why Robert Lewis Stevenson Elementary needs some Powtoon EDU in it's life! #PowtoonMySchool pic.twitter.com/ax2OvMPAuz

— wakeupandtech (@wakeupandtech) September 6, 2018
Genesis
Shimrit Nothman, President of the PTA for the Genesis school in Binyamina, Israel submitted this awesome entry. We were stoked by this school's commitment to diversity and sustainability — which really shows in their video. They also shared an inspiring goal of having students make Powtoons to teach their classmates and those in younger grades. Nothing quite as heartwarming as students becoming teachers with Powtoon, amirght?
School Facts
School: Genesis
Location: Israel
Founded: 2013
Number of students: 150
Grades served: Elementary level
SMK Bakun
We got entries from all over the world, including this one from SMK Bakun in Malaysia. Submitted by English teacher Evan Wee Siaw Chung, we especially loved seeing uploaded videos of their students at school and their use of voiceovers. Seeing the enthusiasm these girls have for tech in the classroom is simply contagious!
School Facts
School: SMK Bakun
Location: Malaysia
Founded: 2006
Number of students: 1,239
Grades served: High School
Lake Shore Central School District
#PowtoonMySchool was intended to provide one lucky school with free Classroom Elite accounts, but that didn't stop Technology Integrator, Deann Poleon, from submitting on behalf of her entire district! We loved the big thinking, and we loved the video… so it looks like Lake Shore Central School District is in the running too!
School Facts
School: Lake Shore Central School District
Location: New York
Founded: 1961
Number of students: 2,303
Grades served: Pre K–12
Brooklyn School of Inquiry
The Brooklyn School of Inquiry had a very strong entry strategy. We got tons of entries from students!!! What stirred us about this submission, in particular, is their mission to use approachable Powtoon videos to educate students about bullying and other important topics that are often taboo in schools. Kudos to Kira Veytsman — a student!!! — for this awesomely executed submission.
School Facts
School: Lake Shore Central School District
Location: New York
Founded: 1961
Number of students: 2,303
Grades served: Pre K–12
Yew Chung International School of Chongqing
The last finalist to highlight comes from Primary EAL teacher Graham David Mayes, who teaches students all the way in Chongqing, China, at the Yew Chung International School. We loved the vibe of Graham's entry, and hope you do too.
School Facts
School: Yew Chung International School of Chongqing
Location: China
Founded: 1932
Number of students: 405
Grades served: K4–13
Stay Tuned for the Big Announcement!
We will be selecting a winner from these finalists in the coming days. As soon as we have worked out all the details, we'll make a big announcement here and on our social media channels.
A special thanks to all of those who submitted entries. Your videos made us laugh, cry, awwww, and generally lose our minds about how creative and awesome you all are!
And tell us who YOU want to win in the comments below!
The following two tabs change content below.
Shoshi Davis
Shoshi joined Powtoon as a Marketing Assistant. To read more of her stuff, you can find her content on Upwork and Business 2 Community talking all things inbound marketing for SaaS. After only 2 weeks at Powtoon, Shoshi was dubbed by the marketing team as having the superpower of "Unbridled Enthusiasm." So that was pretty cool.
Latest posts by Shoshi Davis (see all)