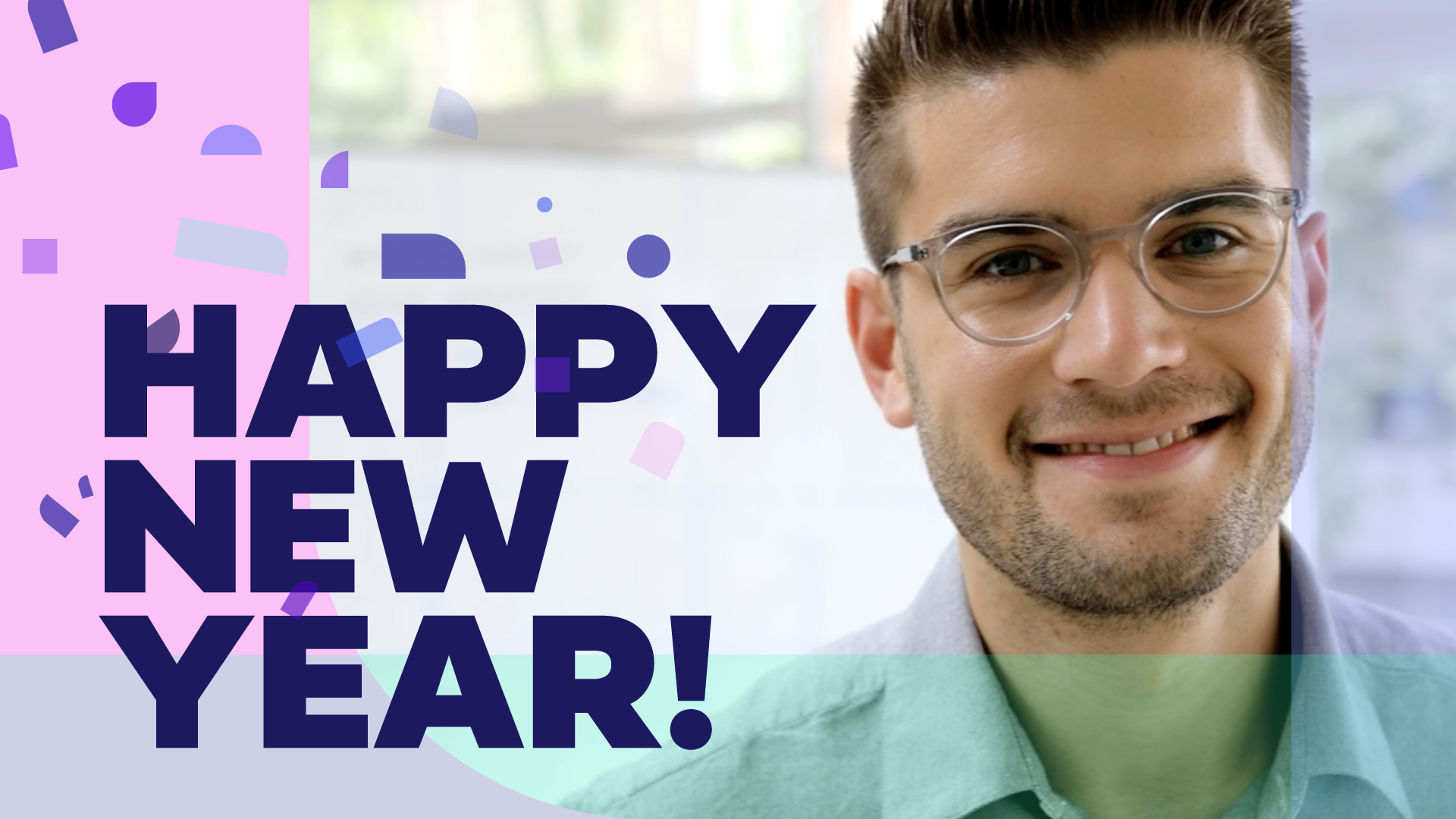 What Happened in 2020? The Year of Visual Communication
Read Time:
7
minutes
In the history of visual communication, 2020 was a crucial year. And the changes ahead for businesses and educators may be even greater. And that is the only prediction you will find in this article.
If 2020 taught us anything, it's that the whole world can change in an instant. Rather than making bold, but likely wrong, predictions for 2021, let us instead analyze what exactly happened this year, and what lessons we learned about how to have a better communication experience.
We will track the problems the COVID-19 pandemic exposed in businesses and institutions around the world, and follow the crisis as it unfolded in our conversations with professionals on the ground across industries.
We'll talk about the new technology Powtoon developed this year, and the emergence of the Visual Communication Platform. Finally, we'll run through concrete examples for how to use visual communication in 2021 to ensure your strategy is aligned, your teams are connected, and your business not only survives, but thrives in our new visual reality.
2020's Communication Problems
In many ways, the changes we all experienced in our working lives have been a long time coming. The COVID-19 pandemic only sped up the timetable for digital transformation, remote work and learning, and a more visual way to communicate in our noisy digital environment. But it wasn't an easy transition, and most of us recognized some serious problems:
Overnight shift to remote work
Drastic need for digitized content
Increase in demand for training and upskilling
Time-consuming and exhausting video calls
Disengaged employees & misaligned teams
Creating a digital company culture
Digital chaos from too many channels, distractions, and notifications
That's not to mention the challenge of work-life balance, or keeping your kids engaged with their remote learning.
Experts Weigh In on Visual Communication Throughout 2020
We saw these challenges play out throughout the year in the conversations we had with customers, experts, and the people on the ground dealing with the crisis.
Powtoon, Kaltura, Accenture: The outlook in March 2020
In March, as cities and businesses were going under lockdown across Europe, the U.S. and beyond, we held a webinar with guests from Accenture and Kaltura to talk about the implications for video and visual communication across industries and across the globe.
The over 400% increase in traffic in areas under lockdown, the feedback from various industries through the lens of Accenture's consulting work, and the massive value companies and educational institutions were ALREADY SEEING from video and visual communication are just a few of the highlights. This conversation can't be missed.
Using video for learning & development: April 2020
Early on, users reported a massive need to get L&D content ready for remote work.
So we welcomed learning technologies expert, longtime L&D consultant, and host of The Learning Hack Podcast, John Helmer, to discuss how to use video for L&D and remote work in the age of Coronavirus.
We covered the biggest challenges facing L&D pros today, the role video and visual communication can play in supporting your team remotely, and more.
Employee attitudes & returning to office (or not): Visual Communication & HR
So what impact was all this having on employees? How were employers communicating visually, and what were the prospects for returning to the office anytime soon? To answer those questions, we welcomed Zoe Haimovitch, VP of content experience for the online HR platform, Hibob.
We discussed the latest insights into attitudes toward remote work & returning to the office. Zoe shared her expert analysis on what these trends mean for the emerging post-COVID reality. And we got into the details of how video & visual communications help your company come back strong.
Building visual communication skills during the crisis
Throughout the crisis, we also tried to make it easy to pick up and build the skills it takes to communicate visually. Understanding how to form your message, how to use your VCP's capabilities to the fullest, all at the side of our video experts — Powtoon staff and customers alike!
How to Make Videos For Remote Work with Nick & Nirel from Powtoon
How to Make Videos for a Remote World with Ami Sheffield from Conagra Brands
How to Make Videos That Tell a Powerful Story with Claire Palyphryman from Accenture
2020 Technological Innovations — From Workspace to VCP
These conversations went hand-in-hand with ones we were having with you, the Powtoon user, behind the scenes. And springing from those conversations came several innovations on the Powtoon platform in 2020.
The Powtoon Workspace
New capabilities sometimes require a new home base. We began laying the groundwork for the innovations of 2020 right in January, with the initial release of the new Powtoon Workspace.
Since then the workspace has grown to include direct links to tutorials and other resources, new ways to create videos, and new powerful tools to organize your work.
New characters, poses, templates, scenes, props, and more!
It's a new world!
And that world calls for new content.
The items inside your videos are what do the heavy lifting of visual communication. And to effectively communicate about remote work, health and wellness, COVID-19 safety and procedures, and our new lockdown reality, we released new character poses, new templates and scenes, sets of props and shapes, and our remote work and remote learning guides filled with resources to help you succeed.
In-house diversity & inclusion and brand identity? Meet Powtoon's Character Builder
Powerful characters tell a more powerful story. Whether you want to ensure your videos are 100% unique, or whether you want to communicate your organization's commitment to diversity and inclusion, the characters that tell our visual story need to resonate with our audiences.
That's why we released Powtoon's character builder. This leap forward came with three new character families. Edit them a little by customizing clothes, or get into the details to define gender, hair, facial features, and more.
Finally, building a character can also help solidify your organization's brand identity. Simply uploading your logo allows you to create characters who tell your story while reinforcing your brand standards.
Powtoon Capture for easy screen recording & video messaging
One thing almost everyone we spoke with shared was the struggle to replace in-person interactions. Miscommunication seems to creep up left and right. That personal, face-to-face interaction is incredibly difficult to replace, and in many ways can never fully be matched.
But the ability to quickly, easily capture your ideas, create a walk-through, give feedback on projects, or simply share a shout out with your team makes the transition to remote and hybrid work easily, with that personal touch.
Powtoon Capture is a Chrome plugin, and allows you to record your screen, camera, or both. And once completed, your capture video lives in your Powtoon workspace for easy access and sharing.
Get the Powtoon Capture Chrome Extension
The Visual Communication Platform
All of this work, all these new capabilities, and the roadmap for the year ahead made it clear that businesses need something more than a simple video maker. What we are building together is truly a platform to support all company communications. In other words, a Visual Communication Platform that helps your organization create, mange, distribute, and track visual communication across the company.
VCP announcement from our CEO
Interactive visual whitepaper
Click here to see how visual communication can improve every department across your organization.
Visual Communication Platform World Premiere
Launch 2021 with Confidence — Leverage Visual Communication
If you've made it this far, you are ready for some concrete resources to put all this into action in the year ahead.
Never fear! Below, find the most important ways to use visual communication to ensure your year starts strong and your company is set up for success, no matter what unpredictable changes lay ahead.
End of year company announcements
Summarizing the year, and calling out the successes and hard work of your team is like kryptonite to employee burnout. And taking the time right at the end of the year to acknowledge everything you and your team accomplished builds enthusiasm and confidence for the year ahead.
Here's a company all-hands video template to get your started:
Planning 2021
Take the last couple of weeks to step back and plan. Kick off the conversation with a short video. Invite your team to training sessions with a video invitation that tells them exactly what's in it for them. Or provide a summary of the plan to ensure your team is aligned and ready to start 2021 right.
Here's a roadmap video template to get you started:
Departmental & team syncs
Got a team sync? Getting the whole department on the same page? Communicate visually and save frustration if your video call goes long or gets interrupted. Imagine syncing on all future projects in a short video instead of endless email threads. It's more than a dream, dear friends, with Powtoon, it's reality!
Here's an upcoming projects video template to get you started:
Investor & stakeholder updates
Just like your employees will head into 2021 with confidence and enthusiasm when they receive timely and relevant visual communication, the same is true for your investors and other stakeholders.
Here's an investor deck video template to get you started:
BONUS TIP: It's an ideal time to get personal, with a face-to-camera update from your CEO directly to stakeholders and investors.
Here's a link to the Powtoon Capture Chrome Extension to get started.
Happy Holidays & Happy New Year
All work and no play is a universally recognized bad combination. Don't forget to celebrate along with your team. This year, the holiday season is more important than ever. Whether we can be with our loved ones like we are used to or not is totally up in the air. Everyone is in desperate need of a break after what feels like the longest year we've ever lived.
Something as simple as a holiday card (in video form, of course) can lift spirits, remind us why we do what we do, and spread a little seasonal goodwill.
Here's a holiday video template to get you started:
And of course, one last example…
Our own Happy New Year video, from Powtoon to all of you:
Make 2021 the Year of Visual Communication at Your Company
No matter what 2021 has in store for you, the ability to communicate visually will make your entire team more aligned, more engaged, and more effective.
If you haven't already, sign up for Powtoon to experience it for yourself.
If you want to learn more about bringing Powtoon to your entire organization, click here to learn about our Enterprise solution.
Happy New Year!