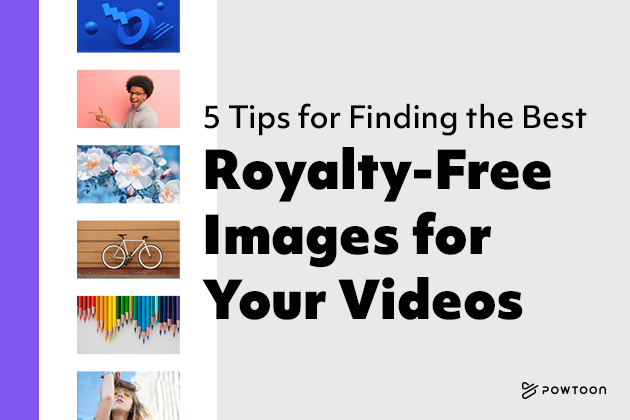 5 Tips for Finding the Best Royalty-Free Images for Your Videos
Read Time:
3
minutes
Creating videos is applicable to every stage of life. Whether you are a student, parent, professional editor or in the workforce, videos have transformed to become the new way of interacting and engaging with the world around you. An important element in video making is choosing the right images to express your opinion or idea and leave a lasting impact. Many images come at a cost, but is there a way to find royalty free images to use in your videos?
In this article, we will bring 5 helpful tips to help guide you in finding the best royalty free images for your videos.
Tip 1: Be Inspired
Before starting your search for the right image, first you have to know what it is you are looking for. Look at the world around you, take inspiration from the blank canvas of the video you are about to create and build a vision of what it is you are going to want to express in your video.
With Powtoon, the array of templates are a great starting point to giving you that first inspired thought as to what you are envisioning, with templates covering all areas of life.
Tip 2: Be Specific
When it comes to searching for your image, you need to make sure that when typing into your search engine, you are specific as to what it is you are looking for. Typing in too broad of a word can be overwhelming, especially when you can see the direction you are taking to create your video. Further, many images may come at a cost, or needing to pay royalties to the owner of the image, so reducing your search to royalty free images will help with your search.
Powtoon offers an array of free images from all categories for you to add to your video creation, making the process a lot simpler and easier.
Tip 3: Be Clever with your Word Choice
Don't be afraid to use creative words in order to be specific. Using keywords that will ease your search. Using different types of adjectives describing the color, aesthetic and texture of what you are searching for will consolidate your search and help you more easily decide what is the most appropriate image for your video.
Tip 4: Be Smart About Your Search Methods
Even more than just being specific about your search for the right image, be smart about it. This means to make sure you're using filters, or the correct search engines for your search. Google is the most common search engine to look for images on, so why not help yourself out and use the Google Advanced Image Search. Or through Google Images, once you have entered your subject, select the "Tools" button, where you will see the option to select usage rights. Under usage rights is the option to select 'Creative Commons License.' This will then filter your image search to show only royalty free images.
What is great about the Powtoon platform, is if you have not found the ideal image for your video in Powtoon's library, you can import the images you found through other search engines and insert them into your video.
Tip 5: Be Creative with your Image Choice
When looking for an image, be creative. Be on the lookout for what colors will burst in your video, what outlines, designs and textures will help your video stand out when it comes to animating your video. Don't be afraid to be creative, and experiment with different designs, moods and take your creativity to the next level.
Your image library has never been bigger!
Go create the best Powtoon you can and include all the royalty free images you desire!

The following two tabs change content below.
Michal Sanders
Michal joined Powtoon as a Content Marketing Intern. She loves to bake, shop, and hang out with her friends. Michal is happiest when she is by the beach with friends having a BBQ. Michal loves to start every morning with a good cup of coffee and catch up on the latest feeds.
Latest posts by Michal Sanders (see all)