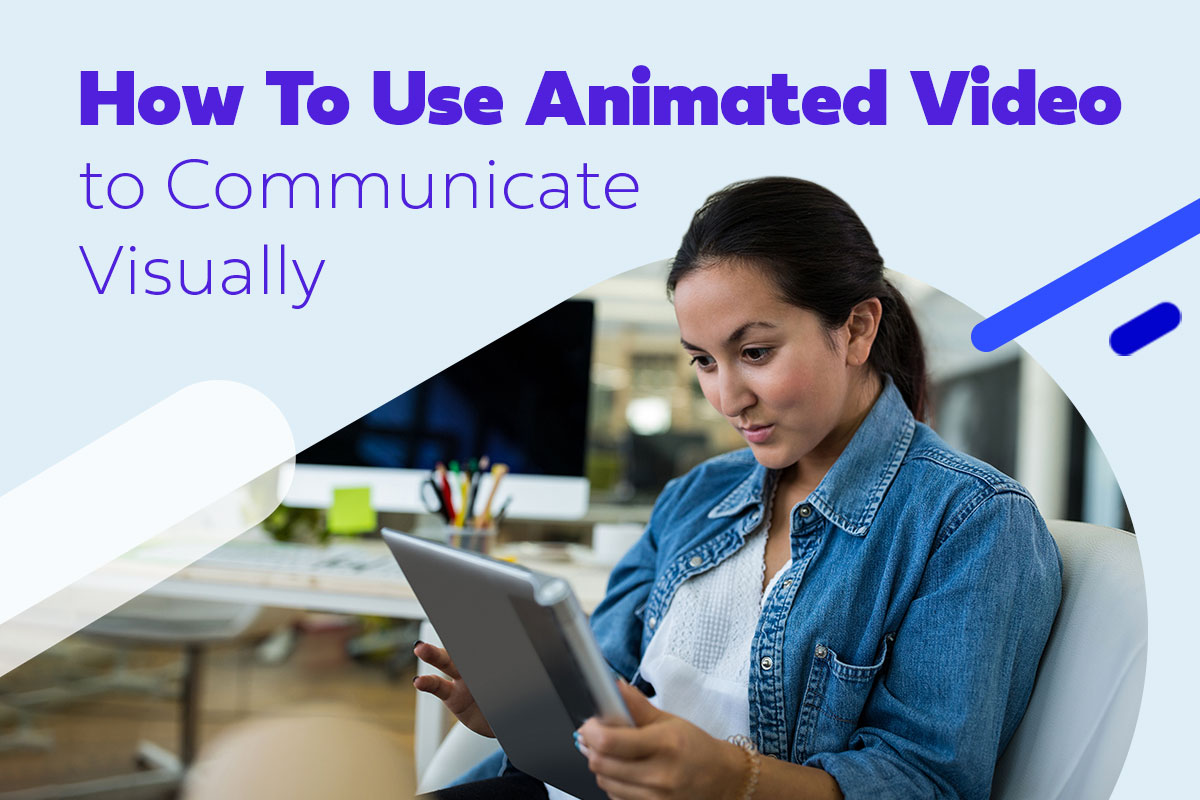 How To Use Animated Video to Communicate Visually
Read Time:
4
minutes
By now you've probably been convinced that video is a necessary component of any communication strategy. The shift over the last few years has been anything but subtle, being used by marketing, communication, and social media experts alike. But there's a difference between visual communication and effective visual communication. Before you create an animated video, you need to consider these three things. 
Know Your Audience
Animation can help you connect with your audience in a way that's impossible through traditional visual communication methods. It's a nostalgic form of communication that makes it easy to connect with the subject and listen to their story. Viewers identify with animated characters differently than live-action people; they are less judgmental toward animations than images from stock footage or even real people! But even so, it's important to clearly identify your target audience to make sure your animated video is as effective as possible.
After all, this is Communication 101: Who are you trying to reach? Are you sending out an internal communication video to employees? Creating a unit introduction for your middle school science class? Developing a promotional social media video you hope will go viral? Hosting an instructional video for new product owners on YouTube? Sharing a success story on your website to entice investors?
Before you even start brainstorming content, you need to have a clearly defined purpose and audience. Without these details, you're just creating video for the sake of creating video — and your communication won't be as effective as you want it to be. To maximize the power of your message, define your audience as narrowly as you can so you can tailor your content to capture the attention of the people you want to see it.
Have a Clear Message
Have a clear message for your audience, and introduce it early. Today's viewers have little patience for sitting through a video without knowing why it's relevant to them. The general rule of thumb is to hook your viewer within the first five seconds. Some experts shorten that window to three. The point is, tell your viewer immediately why they should stay tuned to keep their attention.
If you're making a training video, this might be a visual teaser or attention-grabbing animated text. But it doesn't always have to be this complicated. For internal communication videos, it can be as simple as leading with the phrase, "We've had some recent organizational changes and today I wanted to share them with you."
Whatever your message, introduce it early and then expound upon it once your viewers get hooked. Animation is particularly helpful in creating clear and consistent messaging. As an eye-catching form of visual communication, it can easily capture the attention of your viewer, simplify complex ideas, and tell a story that will captivate and engage your target audience.
Choose the Best Visual Communication Tool for Your Needs
Once you know your audience, purpose, and message, it's time to start creating! There are many types of visual communication tools and you should choose the best fit for your goals. Animated videos are a popular choice since they are colorful and eye-catching, but even within the category you have several options, including:
Whiteboard Animation: These are great for explanatory or how-to videos. They typically feature a handwriting text or drawing pictures on a white background or chalkboard. They create visual interest and keep the viewer engaged by generating intrigue as they watch the content being created rather than simply consuming facts. As a bonus, they've been shown to increase information recall by up to 22% over traditional "talking head" videos!
Animated Text: Convert simple text copy to a more engaging medium with moving text, also known as kinetic typography. These types of videos are some of the easiest and most cost-effective to create, and help increase core message takeaway particularly when combined with audio reinforcement.
Animated Explainer Videos: Simplify complex concepts for a targeted audience using animated explainer videos. These types of videos are ideal for sales, marketing, and educational audiences. They can be character-driven using a cartoon subject, or simple and engaging text-based animations. Animated explainer videos make hard-to-understand concepts or processes accessible to audiences by presenting the information in an easily digestible manner.
Once you've narrowed down your video and created an outline of your messaging campaign, it's time to decide whether to have it created by a professional agency or to make it in-house. While professional agencies are great, they come with a high price tag — a simple 30-second animation can cost upwards of $10,000.
In-house content creation is considerably cheaper but is difficult to do well if you don't have the technological tools or an eye for design. You'll need to evaluate your budget, your tech resources, and your in-house skill sets to determine which path is right for you.
Visual Communication Made Easy
Boost your business with Powtoon! Powtoon is the one-stop platform for creating professional-quality videos with ease. With a user-friendly platform, professionally-designed templates, and a library of support articles and tutorials, anyone can create a top-notch, budget-friendly video in minutes. Whiteboard animations, customized cartoons, and animated visual communications of all types are simple with Powtoon. Ready to get started? Sign up for free today!
The following two tabs change content below.
Shoshi Davis
Shoshi joined Powtoon as a Marketing Assistant. To read more of her stuff, you can find her content on Upwork and Business 2 Community talking all things inbound marketing for SaaS. After only 2 weeks at Powtoon, Shoshi was dubbed by the marketing team as having the superpower of "Unbridled Enthusiasm." So that was pretty cool.
Latest posts by Shoshi Davis (see all)