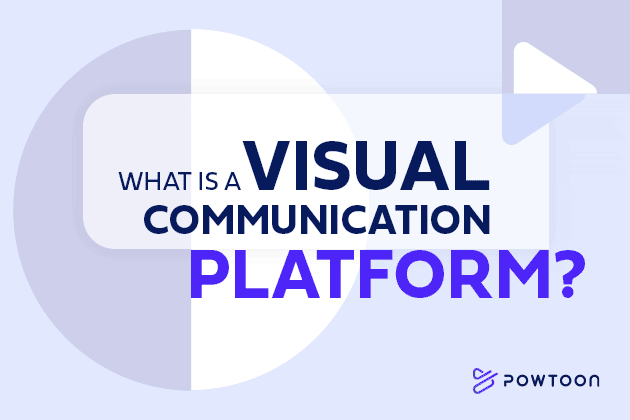 What Is a Visual Communication Platform
Read Time:
7
minutes
A visual communication platform (VCP) is an end-to-end software solution designed to drive productivity by enabling teams to be more focused, aligned, and engaged through impactful visual communication.
Built for teams of all sizes, a VCP makes videos and visual content easy to create, flexible to manage, quick to distribute, and simple to measure. In practice, this means that teams can deliver effective initiatives and programs for employee training, internal onboarding, change management, sales enablement, customer experience, and beyond.
Moreover, a VCP enables any team member, no matter his or her skillset, to transform complex and scattered information — be it a presentation, spreadsheet, email, or report — into an engaging animated presentation, whiteboard tutorial, screen recording, infographic video, or even a face-to-camera video.
In essence, a VCP becomes a collaborative workspace within an organization. It puts simple content creation tools at employee fingertips, it aligns distributed teams with contextual information, and it gives managers full insights into the success of their communication efforts.
How Are VCPs Driving Organizational Productivity?
There's a problem with the way teams communicate. Whether it's top down or bottom up, team communication relies on text-heavy messages and multi-channel chaos.
Think about it — the average employee receives as many as 120 emails each day. In addition, they have to jump on multiple video calls a day, respond in group chats, reply to text messages, and answer phone calls. This communication overload results in important information being unclear, forgotten, or ignored.
And the truth is, remote work isn't going anywhere. According to Mickensey's report, The Future of Work in America, 38% of corporate executives across all sectors said they expect their employees to work two or more days a week remotely after COVID-19.
So if that's the case, why do employees have to jump between endless hoops of communication channels to get their message across, work cross-functionally, and get their work done?
Here's how company communication works these days:
Visual communication platforms emerged to help organizations increase productivity through a clear and visual flow of information:
1. Build an engaging culture
From HR to IT, from junior to executive, enable everyone to easily create videos and visual content that get their point across in a clearer and more contextual way. Transform long emails into visual reports, PowerPoints into animated explainer videos, PDF manuals into whiteboard tutorials, and email summaries into short video messages.
2. Align teams faster
Whether your employees are sitting in California or Tokyo, provide a single visual workspace for everyone to access company materials in seconds, work asynchronously on projects, edit videos togethers, and stay informed on all important updates.
3. Gain complete visibility
Gain accurate, real-time insights that show managers exactly which visual communication efforts work and which don't so they can constantly improve the way they motivate, develop, and train employees.
What Are the Core Capabilities of a VCP?
Implementing a visual communication platform is the fastest way to help company-wide employees and executives build engaging conversations, gain clarity into their work, and drive deeper alignment.
A VCP houses the following capabilities under one roof:
1. Easy, Scalable Content Creation
A VCP provides an extensive library of tools and templates to empower different teams, such as Internal Comms, L&D, HR, and Sales, to transform any complex idea, process, or project into a short and compelling visual resource. This visual resource can be anything from an animated explainer, a whiteboard tutorial, a promotional video, screen recording, or even a face-to-camera video.
2. Brand Management
A visual communication platform provides effortless brand management capabilities, allowing individuals and teams to upload their brand fonts, create branded templates, save company media, and lock specific assets to save time and ensure brand consistency.
3. Centralized Visual Workspace
A VCP makes content discovery quick, easy, and extremely visual for employees, ensuring that information is always readily available. It provides companies with an internal content hub where distributed employees can quickly discover company updates, search for internal videos, and start conversations around visual communication. Users can also create playlists in order to save and organize resources by specific topics, projects, and departments.
4. Team Collaboration
A visual communication platform provides effortless brand management capabilities, allowing individuals and teams to upload their brand fonts, create branded templates, save company media, and lock specific assets to save time and ensure brand consistency.
5. Multi-Channel Distribution
Today's employees want to be able to consume company content when they want, where they want. With one click, a visual communication platform enables team managers to quickly and effortlessly download content in various formats, share it on social media and work channels, as well as publish their visual content on their website and landing pages – without leaving the platform.
6. Engagement Analytics
Powered with rich engagement analytics, a visual communication platform reveals how employees engage and respond to visual resources, such as training, onboarding, and compliance videos. In essence, a VCP gives employees a voice in shaping the company's culture, guiding managers to create better materials, and helping to bridge knowledge gaps.
7. Security and Governance
Depending on someone's role in organization or institute, a visual communication platform includes permission-setting and security features to moderate who can view, update, enter, and access data to and from the platform. Teams can get the most out of their VCP while staying compliant and aligned with organizational standards.
Who Is a VCP Built For?
A visual communication platform is ideal for teams of all sizes. It's flexible and simple enough to help any user in the organization communicate more effectively with their team, management, clients, and prospects:
Executive Leadership
Foster transparency with authentic face-to-camera videos for employees and customers
Highlight company wins and motivate your workforce with compelling explainer videos
Cut down on meeting time and opt for videos to relay information fast and effectively
HR
Attract top talent on social media with branded videos that highlight your culture
Delight new employees with animated or whiteboard videos that reduce information overload
Build brand-proof videos that can easily be customized per location and language
Amplify company updates and announcements with authentic face-to-camera videos
Build an inclusive culture with customizable, animated characters that truly represent your people — from age, to race, and gender
Boost employee commitment and morale by giving them simple creation tools to express themselves through videos
Learning & Development
Create effective, customizable videos fast for personalized training, no matter the role
Increase training attendance rate with video invites that get employees excited
Design microlearning or courses that are fun and relay information in a visual way
Equip employees with simple video creation tools to share skills and innovative ideas with the rest of the company
Guide employees through upcoming changes with authentic face-to-camera videos
Easily plug into your existing tools like Kaltura, Google Drive, LMS or LXP
Internal Communications
Foster employee commitment by sharing video messages that give plenty of context
Align across departments by sharing video recaps that highlight big or small wins
Show recognition to superstar teams or employees with video shoutouts
Get employees psyched with videos for all-hands meetings, hackathons, and happy hours
Promote policies or guidelines with characters that you can easily customize and animate
Sales
Create sales videos at scale while tailoring them to different industries and prospects
Include short video messages in your prospecting emails to achieve higher response rates
Simplify complex topics using animated, whiteboard, and face-to-camera videos
Follow up with leads by offering video recaps of key meeting takeaways
Transform monthly Excel reports into video infographics that truly showcase your success
Easily record product demos that personally address the prospect's concerns
IT, Security, and Procurement
Cut the number of support tickets by creating short video tutorials for IT FAQs
Create compliance training videos that are engaging and fully aligned with your brand
Roll out new software with explainer videos instead of text-heavy emails
Deliver security best practices and regulation updates with fun video infographics
Marketing
Easily create videos and visual content at scale while sticking to brand guidelines
Grab attention in the first 15 seconds with video ads tailored to every channel and format
Catch hot, new leads with professional face-to-camera and video infographics
Showcase your product or solution with explainer videos in any style
Share snackable social media videos for your followers to engage with along their journey
Sell your strategy and results to leadership using impressive video reports
Customer Support & Success
Relay relevant information to customers with clear product walkthroughs and tutorials
Clear up confusion and resolve customer issues with video messages, at scale
Keep customers paying attention, every step of the way with GIFs and animated videos
Build a strong bond between the user and the company with fully-branded visual content
What Types of Content Can Teams Create with a VCP?
Power Productivity Across your Enterprise with Powtoon
Built with insights from over 30 million users and virtually all Fortune 500 companies, Powtoon's all-in-one visual communication platform empowers individuals, teams, and enterprises to transform complex and scattered information into powerful videos and visual content with a professional look and feel.
Powtoon's collaborative platform makes visual communication easy to create, simple to manage, and quick to distribute. With hundreds of inspirational templates, branded characters, and millions of royalty-free footage, images, and music, Powtoon lets you easily create videos in every style and format — animated explainers, whiteboard tutorials, promotional videos, screen recordings, video infographics, face-to-camera videos, and beyond! 
Speak to a communication expert today to learn how a visual communication platform can help your team be more focused, engaged, and aligned.

The following two tabs change content below.
Sapir Segal
Sapir is the Enterprise Product Marketing Manager at Powtoon. Her work is driven by a consistent, unwavering belief in the power of storytelling and how good product narratives help build long-lasting brands, connect between customers, and drive sales.
Latest posts by Sapir Segal (see all)